Event details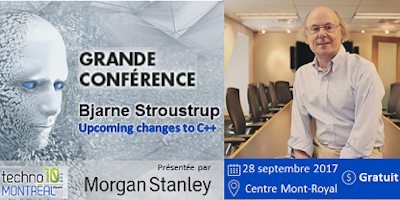 Grande Conférence : Bjarne Stroustrup, Upcoming changes to C++
Thursday 28 September 2017
17:00
Centre Mont-Royal
220 rue Mansfield, Montréal, QC
H3A 3R8
---
**COMPLET**
Bjarne Stroustrup : Le père du C++
Découvrez les fonctionnalités à venir qui simplifieront la programmation et augmenteront la performance du C++
La conférence présentera:
•Les implications pour la direction du C++
•Les directives et techniques potentielles pour l'utilisation des nouvelles fonctionnalités
•Les problèmes inévitables liés à l'application de nouvelles fonctionnalités aux anciennes bases de code 
---
Présenté par / Presented by

---
Procurez-vous vos billets ici!
---
Tickets
Tickets are no longer available because the event is over.
Thanks to the participants!