Event details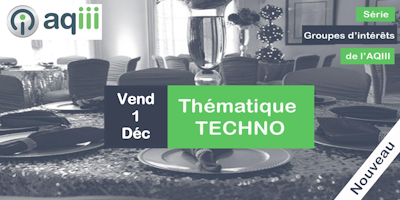 Petit-déjeuner : Groupe d'intérêt *TECHNO*
Friday 01 December 2017
08:00
Club Saint-James
1145 Avenue Union 07:30, Montréal, QC
H3B 3C2
---

DU NOUVEAU À l'AQIII : Les groupes d'intérêt
NOUVELLE DATE : Vendredi 1er décembre !
Une série de rencontres mensuelles permettant exclusivement aux consultants indépendants MEMBRES de l'AQIII de se rencontrer pour partager leurs préoccupations, trouver des solutions, s'enrichir des expériences des autres participants et accroître leur réseau d'affaires.
Cette première rencontre permettra de fixer les attentes et thématiques, alors soyez des nôtres!
Trois groupes vous sont proposées, en alternance mensuelle:
TECHNO

AFFAIRES




PME EN DIRECT
Rendez-vous au prestigieux Club Saint-James pour cette première rencontre thématique TECHNO!
Petit-déjeuner inclus. / RSVP obligatoire
PLACES LIMITÉES!
---
Conditions d'admission :
Être MEMBRE de l'AQIII! :-)
---
---
Tickets
Tickets are no longer available because the event is over.
Thanks to the participants!