Event details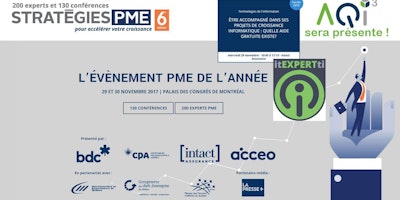 L'AQIII au Salon Stratégies PME - 6e édition
Wednesday 29 November 2017
08:00
Palais des congrès Montréal
1001 Place Jean-Paul-Riopelle, Montréal, QC
H2Z 1H5
---
**Venez nous voir**

L'AQIII y aura un KIOSQUE et y présentera sa CONFÉRENCE à succès :
Le mercredi 29 novembre, 10h45, 
l'AQIII présentera la conférence suivante :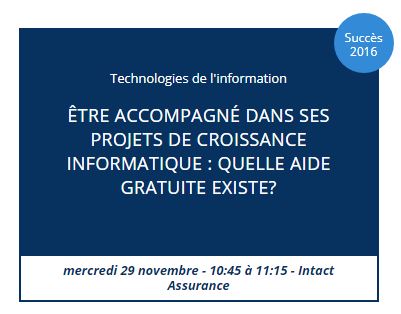 Le programme d'accompagnement *gratuit* EXPERT TI - Marché PME, vous connaissez?
Vous souhaitez DÉMARCHER des PME en direct ?
Vous êtes consultant TI et souhaitez vous faire ACCRÉDITER par l'AQIII ?
---
SPÉCIAL pour les MEMBRES AQIII : un billet GRATUIT (valeur de 195$ !)
Demandez-nous votre billet ici!
---
Tickets
Tickets are no longer available because the event is over.
Thanks to the participants!