Event details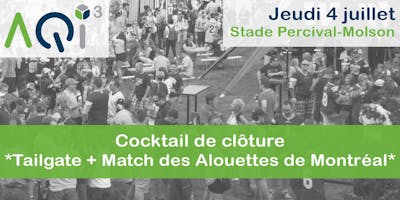 Cocktail de Clôture *TailGate + Match des Alouettes de Montréal*
Thursday 04 July 2019
17:00
Stade Memorial Percival-Molson
475, Avenue des Pins Métro McGill ou Navette STM à la Place des arts, Montréal, QC
H2W 1S4
---
Rendez-vous le 4 juillet au Cocktail de clôture de l'AQIII!
Cette année l'AQIII vous propose une toute nouvelle formule *TailGate AQIII & Match d'ouverture de la saison des Alouettes de Montréal*
Venez célébrer la fin de la saison 2018-2019 des activités de l'AQIII avant la pause estivale dans une ambiance festive et conviviale entre pairs. Une belle façon de réseauter autour d'un BBQ bière et hots-dogs et d'un match de football.
5 bonnes raisons de participer

Réseautez avec des consultants en TI, des donneurs de contrats et des fournisseurs de services professionnels
17h00 : TailGate AQIII d'avant match avec bières et hots-dogs à volonté!
19h30 : Match d'ouverture de la saison des Alouettes de Montréal contre les Tiger Cats d'Hamilton
Lancement officiel du nouveau logo des Alouettes et concert de la mi-temps de l'étoile montante du RAP anglo-québécois, Zach-Zoya
Prix de présence

Pour se rendre au Stade Percival-Molson
Métro McGill OU
Service gratuit de Navette STM à la station Place des arts: Le service démarrera à 17h45. À partir des quais, suivre la direction Jeanne-Mance, puis prendre la sortie UQÀM


---
Tickets
Tickets are no longer available because the event is over.
Thanks to the participants!