Event details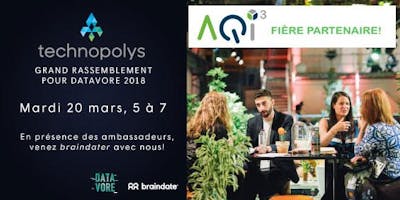 2e grand rassemblement technopolys
Tuesday 20 March 2018
17:00
Palais des congrès Montréal
1001 Place Jean-Paul-Riopelle Suite 2901, Montréal, QC
H2Z 1H5
---



Rendez-vous au deuxième grand rassemblement technopolys
Bénéficiez du tarif membre grâce à l'AQIII (Code: TECHNOPOLYS@DATAVORE)
Le deuxième événement technopolys se tiendra dans le cadre de Datavore, le 20 mars 2018 sous forme d'un 5 @ 7 au Palais des congrès de Montréal. Venez :
réseauter avec les influenceurs du milieu,
participer aux braindates avec les ambassadeurs de technolopolys, et
partager sur les enjeux de notre secteur. 
Inscrivez-vous dès aujourd'hui à cet événement qui viendra clôturer en beauté cette journée lors de laquelle 800 acteurs du milieu sont attendus.
---
À propos de technopolys
technopolys est le mouvement de promotion de l'industrie des technologies du Québec piloté par les entreprises, universités, centres de recherche et associations du secteur des technologies de l'information et des communications du Québec. technopolys mise sur la fierté de notre industrie et vise une connaissance accrue de sa contribution à l'économie, l'innovation et le bien-être des citoyens au Québec ainsi que sa reconnaissance à l'international.  La force de technopolys réside dans le travail d'équipe de l'industrie.
---
L'AQIII fière partenaire de technopolys
En tant qu'organisation fondatrice, l'AQIII vous permet de participer à cet évènement au TARIF MEMBRE - 30 $ au lieu de 45 $
CODE RABAIS: TECHNOPOLYS@DATAVORE
---
Tickets
Tickets are no longer available because the event is over.
Thanks to the participants!