Event details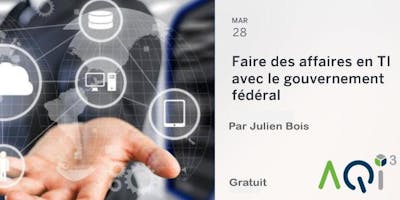 Faire des affaires en TI avec le gouvernement fédéral
Wednesday 28 March 2018
17:00
Bibliothèque d'Ottawa, Salle B125
120 rue Metcalfe, Ottawa, Ontario
K1P 1E7
---
Bénéficier de l'expérience d'un membre de l'AQIII pour connaître la meilleure approche pour travailler en Ti directement avec le gouvernement fédéral!
Présenté par Julien Bois
J'ai pu expérimenter l'enregistrement auprès du gouvernement fédéral pour travailler directement en TI avec lui, à la fois avec ProServices et avec TBIPS. Je souhaite partage mes connaissances acquises sur le sujet, ainsi que mon expérience et une démonstration de comment chacun peut faire.
Agenda
Les opportunités au fédéral: Combien, Où, Qui, …?
Les différents types de services professionnels
Les exigences communes à tous les types
Les exigences de sécurité industrielle
Les différents niveaux pour certains types de service
Les offres à commandes et les arrangements en matière d'approvisionnement
Les grilles avec exigences obligatoires et facultatives des AMA
Taux moyens de facturation des participants aux offres à commandes
Les sections, les catégories et les références clients
Choix préalable et sélection des fournisseurs
Les cycles de référencement
Les coentreprises pour partager les exigences
Démo - Étape 1: Enregistrement en tant que fournisseur
Démo - Étape 2: Soumission pour s'enregistrer sur TBIPS
Démo – Étape 3: Soumission d'enquêtes de sécurité
Évènement Gratuit.
---
Tickets
Tickets are no longer available because the event is over.
Thanks to the participants!