Event details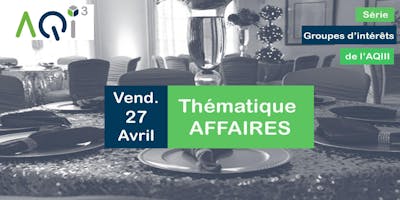 Petit-déjeuner : Groupe d'intérêt *AFFAIRES*
Friday 27 April 2018
07:30
Cora
1240 Rue Drummond Salle de réunion, Montréal, QC
H3G 1V7
---

DU NOUVEAU À l'AQIII : Les groupes d'intérêt
Une série de rencontres mensuelles permettant exclusivement aux consultants indépendants MEMBRES de l'AQIII de se rencontrer pour partager leurs préoccupations, trouver des solutions, s'enrichir des expériences des autres participants et accroître leur réseau d'affaires.
Participez à cette nouvelle édition sur la thématique AFFAIRES et obtenez des réponses aux questions que vous pourriez vous poser sur :
la gestion de votre *MOI.Inc*
les meilleurs outils de gestion
l'optimisation et le développement de vos activités
la sous-traitance de vos mandats
etc.
Petit-déjeuner inclus. / RSVP obligatoire
PLACES LIMITÉES!
---
Conditions d'admission :
Être MEMBRE de l'AQIII! :-)
---
**** AVIS DE MAINTENANCE EN COURS ****
Nous éprouvons quelques difficultés techniques avec Paypal et travaillons pour régler le problème. En attendant, nous vous invitons à contacter notre coordonnatrice aux évènements, Noémie Dabronyi ndabronyi@aqiii.org pour vous inscrire.
---
Tickets
Tickets are no longer available because the event is over.
Thanks to the participants!