Event details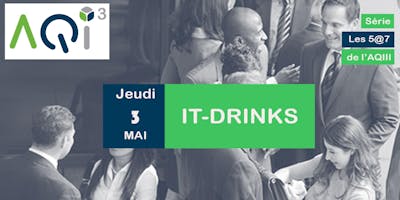 IT-DRINKS AQIII
Thursday 03 May 2018
17:00
Hyatt Regency
Six Resto Lounge 1255 Jeanne-Mance, Montréal, QC
H5B 1E5
---

Rendez-vous au prochain IT-DRINKS de l'AQIII!
Rendez-vous ce 3 mai au IT DRINKS en plein centre-ville! 
L'incontournable happening du milieu des TI vous permettra de développer votre réseau, échanger avec des pairs, optimiser votre "Moi inc." et même trouver votre prochain mandat! 

La formule bonifiée de réseautage pour répondre aux besoins des consultants en TI
Réseautez avec des consultants en TI, des donneurs de contrats et des fournisseurs de services professionnels
Coin MENTORAT : obtenez des conseils concrets de nos ambassadeurs et mentors pour votre "MOI Inc." ou votre démarrage. Vous aimeriez être un mentor AQIII? Passez nous voir!
Obtenez de précieux conseils de nos partenaires de services professionnels

Trouvez votre prochain mandat avec nos partenaires donneurs de contrats

Prix de présence
Bouchées offertes  / Bar payant.
---
Tickets
Tickets are no longer available because the event is over.
Thanks to the participants!