Event details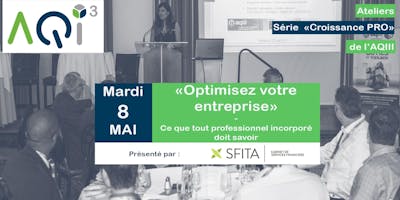 Atelier *Croissance PRO* 301 : Faites fructifier vos avoirs
Tuesday 08 May 2018
17:00
Club Saint-James
1145 avenue Union, Montréal, QC
H3B 3C2
---

Ne manquez pas le prochain Atelier Croissance PRO 301 de l'AQIII : Un lieu, Un sujet, Un présentateur!
---
Quoi ?
Au cours de cet atelier intéractif, les CONSEILLERS experts de Services Financiers I.T.A. répondront aux questions suivantes et les illustreront à l'aide de simulations : 
Est-il possible de faire l'acquisition d'un IMMEUBLE par mon entreprise?

Est-il possible de me créer un FOND de PENSION personnelle avec ma compagnie?

Ma compagnie peut-elle contrinuer à mes REER?

Salaire versus dividende?

Existe t-il des façons de SORTIR des sommes de mon entreprise avec pratiquement pas d'impôt pour ma RETRAITE?

Puis-je faire du FRACTIONNEMENT de revenu?
---
Pour qui ?
Cet atelier s'adresse aux CONSULTANTS INCORPORÉS D'EXPÉRIENCE, recherchant des solutions financières particulières pour FAIRE FRUCTIFIER leurs avoirs.​
---
Formule 
Un souper gastronomique 3 services vous sera servi durant la soirée :
Entrée : Potage du moment
Plat principal : Chateaubriand de boeuf AAA rôti, échalotes françaises confites, sauce Voronoff
Dessert du Chef pâtissier
Café, thé, tisane
---
Présentateur et partenaire 

Grand Partenaire de l'AQIII, le cabinet des services financiers ITA accompagne depuis près de 20 ans ses clients dans l'optimisation de leur situation financière tout au long  du cycle de vie de leur entreprise. 
Leur approche complète permet de dresser le portrait de votre entreprise et d'évaluer avec vous la structure fiscale la plus favorable, tant à court terme que pour l'avenir. Leur service a pour objectifs de :
Accroître vos connaissances et vos compétences financières
Connaitre les avantages de l'incorporation
Prendre le contrôle des bénéfices de votre entreprise
Optimiser vos finances
Élaborer une stratégie de rémunération afin de vous permette de prendre les décisions les plus éclairées selon votre statut fiscal
---


---
Tickets
Tickets are no longer available because the event is over.
Thanks to the participants!