Event details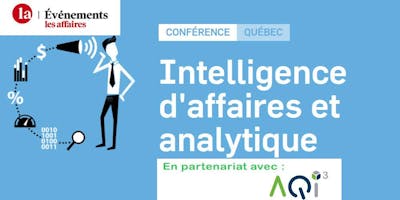 Conférence les Affaires : Intelligence d'affaires et analytique
Thursday 17 May 2018
08:00
Hôtel Le Concorde Québec
1225 Cours du Général de Montcalm, Ville de Québec, QC
G1R 4W6
---



Obtenez un rabais en utilisant le code 1AQIII : jusqu'au 22 mars, 535 $ au lieu de 895 $
La transformation orientée par les données est devenue une question de vie ou de mort pour plusieurs industries. Selon Gartner, l'intelligence d'affaires et l'analytique représentent une valeur clé pour les écosystèmes numériques, car elles continuent à être le meilleur levier financier. De 1995 à 2016, le nombre d'utilisateurs d'Internet est passé de 16 millions à 3,6 milliards. Les tendances actuelles en intelligence d'affaires et en analytique pointent toutes vers l'augmentation des données et des progrès des technologies qui y sont associées.
Suite à l'immense succès de l'automne dernier à Montréal, les Événements  Les Affaires sont fiers de vous proposer cette conférence en tournée à Québec le 17 mai prochain. Cet événement d'envergure réunira des gestionnaires et des experts en intelligence et en analytique d'affaires issus d'organisations telles  que la Banque Nationale du Canada, Biscuits Leclerc, Enbridge Calgary, Groupe Aldo, Industrielle Alliance, Mouvement Desjardins et Radio-Canada. Vous y apprendrez comment : 
Mieux connaître votre clientèle grâce à l'intelligence d'affaires ;
Être pertinent en développant de bons insights et des storytellings efficaces ;
Développer des processus afin de travailler avec des tableaux de bord imparfaits ;
Créer vos programmes d'analytique mobile et augmenter la réactivité de vos usagers. 
De plus, ne manquez pas l'occasion de participer à un panel de discussion sur l'avenir de l'intelligence d'affaires avec des experts de l'Institut de valorisation des données (IVADO), du Pôle d'intelligence d'entreprise et du Centre de recherche informatique de Montréal (CRIM).
---
5 bonnes raisons de participer
Développez une culture de données propre à fonctionner avec des tableaux de bord imparfaits
Intégrez le BI Mobile afin d'offrir à vos usagers des outils d'analyse en temps réel
Implantez une solide gestion du risque dans l'élaboration de vos projets BI
Maximisez vos processus BI et réduisez vos coûts d'exploitation
Inspirez-vous d'autres industries et réseautez avec les meilleurs
---
Code rabais : 1AQIII
---
Tickets
Tickets are no longer available because the event is over.
Thanks to the participants!