Event details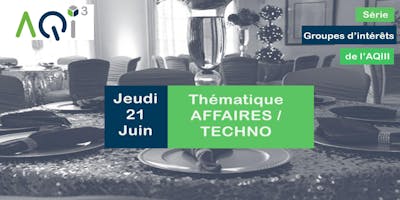 Petit-déjeuner : Groupe d'intérêt *AFFAIRES*
Thursday 21 June 2018
07:30
Eggspectation
1313 de Maisonneuve Ouest, Montréal, QC
H3G 2R9
---

DU NOUVEAU À l'AQIII : Les groupes d'intérêt
Une série de rencontres mensuelles permettant exclusivement aux consultants indépendants MEMBRES de l'AQIII de se rencontrer pour partager leurs préoccupations, trouver des solutions, s'enrichir des expériences des autres participants et accroître leur réseau d'affaires.
Participez à cette nouvelle édition sur la thématique AFFAIRES et obtenez des réponses aux questions que vous pourriez vous poser sur :
la gestion de votre *MOI.Inc*
les meilleurs outils de gestion
l'optimisation et le développement de vos activités
la sous-traitance de vos mandats
etc.
Venez discuter Affaires lors de ce petit-déjeuner animé par Sébastien Daupleix, membre du conseil d'administration de l'AQIII. C'est votre rendez-vous exclusif!
Petit-déjeuner inclus. / RSVP obligatoire
PLACES LIMITÉES!
---
Conditions d'admission :
Être MEMBRE de l'AQIII! :-)
---
---
Tickets
Tickets are no longer available because the event is over.
Thanks to the participants!