Event details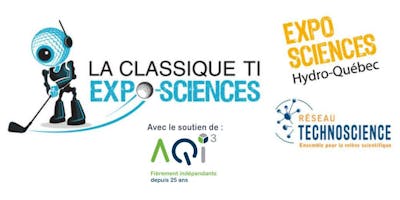 Classique de golf TI Expo-sciences
Monday 27 August 2018
08:00
Centre de golf Le Versant
2075, Côte Terrebonne, Terrebonne, QC
J6Y 1H6
---
Obtenez un tarif privilégié grâce à l'AQIII
L'industrie des TI, par le biais de Technoscience, vous convie à une magnifique journée de golf qui vise à maintenir les programmes et les activités en science et technologie offerts aux jeunes de partout au Québec.
Au programme :
L'avant-midi vous permettra de mettre à jour vos connaissances, grâce à nos tables de discussions, animées par des professionnels et spécialistes en technologie;
L'après-midi sera consacrée à votre parcours de golf. Vous pourrez profiter du soleil et relaxer tout en découvrant les nombreuses surprises tout au long du parcours;
La soirée, période propice au réseautage, débutera avec le cocktail et sera suivie d'un souper entrecoupé de nombreux tirages.
Notre cause caritative, vous l'avez devinée, est celle des Expo-sciences. En participant à cet événement, vous contribuez à encourager nos jeunes à développer leur curiosité scientifique..
Une occasion unique de discuter de vos enjeux et besoins entourés de gens qui vivent les mêmes préoccupations que vous!
L'AQIII sera sur place pour animer un trou de « Tapoche la guimauve », venez nous voir !
---
Membres AQIII, obtenez 2 billets disponibles à un tarif privilégié de 145$ au lieu de 195$! Pour les acheter, veuillez écrire à Noémie Dabronyi ndabronyi@aqiii.org. Les billets seront distribués sur la base du premier arrivé, premier servis
---
Tickets
Tickets are no longer available because the event is over.
Thanks to the participants!