Event details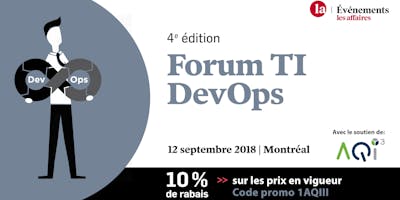 Forum DevOps Les Affaires
Wednesday 12 September 2018
08:45
Hôtel Omni
Montréal, QC

---

Obtenez un rabais de 10% grâce à l'AQIII
Lors d'un sondage des Événements Les Affaires, plus de 80 % des dirigeants TI ont mentionné que les approches Agile et DevOps faisaient partie de leurs préoccupations actuelles. C'est normal, car dans une étude américaine, les résultats indiquent que dans les organisations les plus performantes qui travaillent avec des pratiques en continu, 21 % moins de temps est passé en travaux non planifiés et retravaillés et 44 % plus de temps est consacré à de nouveaux projets. Ainsi, on voit s'accélérer l'adoption d'une approche Lean, comme DevOps, dans les organisations.
Dès le moment où une application ou un nouveau système sont mis à la disposition des usagers, les besoins ont généralement évolué. L'approche DevOps devient incontournable, car en plus de réduire le temps de développement, elle permet d'assurer une meilleure qualité des codes et l'introduction de l'automatisation des tests, du déploiement, des processus d'approbation et de la gestion des configurations.
Mais pour ce faire, un changement de culture et de leadership doit être fait dans toute l'organisation.
Venez faire connaissance et discuter avec des gestionnaires qui implantent l'approche DevOps au sein de : Banque Nationale du Canada, ConformiT, Desjardins Digital, DevOps É.-U., Emyode, Facilité, Revenu Québec, Pyxis, l'Université Laval et Stingray, qui sont actuellement dans ce processus d'intégration.
---
5 bonnes raisons de participer
Apprenez comment l'approche DevOps transforme la performance des codes et de l'automatisation 
Réalisez l'intégration des pratiques DevOps dans votre entreprise 
Changez la culture de vos services et développez une offre commune de prestations de services de TI 
Utilisez les leviers du DevOps afin d'accélérer la livraison de valeur 
Réseautez et échangez avec vos pairs qui font face à des défis similaires
---
Tickets
Tickets are no longer available because the event is over.
Thanks to the participants!