Event details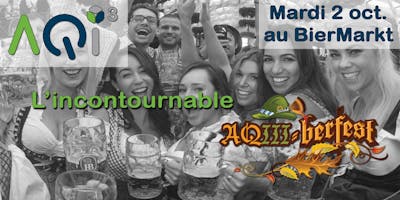 AQIII-berfest
Tuesday 02 October 2018
17:00
BierMarkt
1221 Boulevard René-Lévesque Ouest, Montréal, QC
H3G 1T1
---
C'est le retour de l'AQIII-berfest cet automne!
La soirée incontournable de BIÈRE à VOLONTÉ - servies par nos partenaires directement des *fûts AQIII* !
Venez passer un bon moment et partager une bière entre pairs lors de l'AQIII-berfest. 
Bières, décor et nourriture comme si vous y étiez en plein centre-ville au BierMarkt.
Passez le mot, c'est une soirée à NE PAS MANQUER !
À deux c'est toujours mieux!
Faites découvrir l'AQIII à un ami! Offrez-lui le prix membre grâce à votre parrainage.
(Valide 1 seule fois pour le non-membre et le membre référent doit être présent à l'évènement)
---

---
Tickets
Tickets are no longer available because the event is over.
Thanks to the participants!