Event details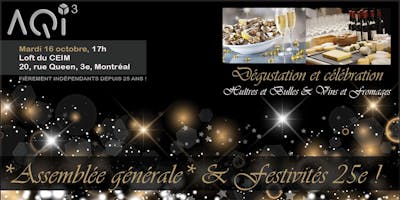 AGA AQIII + Soirée 25e - Huîtres & Bulles
Tuesday 16 October 2018
17:00
LOFT du CEIM
20, rue Queen 3e étage, Montréal, QC
H3C 2M7
---
Soyez des nôtres pour célébrer la fin de l'ANNÉE de FESTIVITÉS entourant le 25e anniversaire de l'Association.
Fêtons nos 25 ans au service des indépendants !
---
L'AQIII vous propose une SOIRÉE MÉMORABLE de dégustation d'Huîtres et de Bulles, ainsi que de découvertes de Vins et Fromages fins.
Ouverture des huîtres par M. Marc Bardier, 78 ans, Champion du monde des ouvreurs d'huîtres détenant fièrement le record Guiness de 398 ouvertures d'huîtres en une heure, et ce, les mains dans le dos.
Découverte gastronomique d'huîtres fraîches
Dégustation de Bulles et Crémants
Découverte de vins rouges et blanc
Plateaux de  fromages fins
Station Porto et chocolat gourmands
Déroulement
17h00 - 25e AGA
18h00 - Soirée 25e anniversaire 
20h00 - Remise de prix et fin de la soirée
---
L'Évènement sera précédé de la 25e AGA
Dès 17h, Le président du conseil d'administration de l'AQIII convie tous les MEMBRES et amis de l'Association à participer à la 25e ASSEMBLÉE GÉNÉRALE ANNUELLE.

---
Qui peut participer ? 
Tous les membres, partenaires et amis. L'AGA est ouverte à tous, mais seuls les MEMBRES en règle de l'AQIII et inscrits à l'Assemblée ont un droit de vote.
Pourquoi participer ?
Pour constater les RÉSULTATS et la VALEUR créés au cours de la dernière année.
Pour assister au DÉVOILEMENT des nouveaux administrateurs et RENCONTRER les élus qui administreront la Corporation. 
Pour prendre acte des ORIENTATIONS stratégiques privilégiées pour 2018-2019.

Pour découvrir comment votre association peut être un LEVIER à votre succès et comment vous pouvez vous IMPLIQUER dans la réalisation des actions. 
---

---
Tickets
Tickets are no longer available because the event is over.
Thanks to the participants!