Event details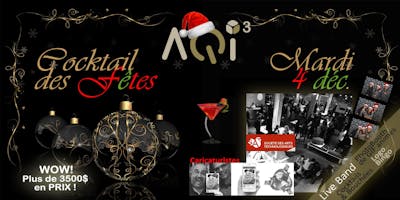 Cocktail des Fêtes - Montréal
Tuesday 04 December 2018
17:00
Société des Arts Technologiques (SAT)
1201 Boul St-Laurent, Montréal, QC
H2X 2S6
---
La MAGIE des Fêtes est arrivée à l'AQIII !
Prenez part à cette grande fête des TECHNOs populaire! C'est LA soirée de réseautage qui brille de mille feux où l'on remercie partenaires, membres et amis. Quelque 150 personnes attendues !
Venez célébrer avec l'AQIII et ses amis dans le magnifique cadre de la Société des Arts Technologiques en plein centre-ville de Montréal! 
Nombreuses activités prévues tout au long de la soirée : 
Concours de réseautage, "Logo Bingo"
Live BAND
Caricaturistes
Photo Booth de gif animés
Plus de 3500$ en Prix de présence hors du commun  !
Cocktails et bouchées en grande quantitié
Nombeuses consommations incluses!

---
Tickets
Tickets are no longer available because the event is over.
Thanks to the participants!