Event details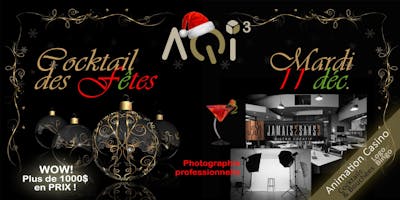 Cocktail des Fêtes - Québec
Tuesday 11 December 2018
17:00
Bistro Jamais 2 sans 3
1995 Rue Frank-Carrel, Québec, QC
G1N 4H9
---
La MAGIE des Fêtes est arrivée à l'AQIII !
C'est LA soirée de réseautage qui brille de mille feux où l'on remercie partenaires, clients et amis !
Venez célebrer avec l'AQIII et ses amis dans le magnifique cadre du Jamais 2 sans 3 à Québec ! 
Nombreuses activités prévues toute au long de la soirée : 
Concours de réseautage, "Logo Bingo"
Photographie professionnelle
Animation casino
Prix de présence hors du commun  !
Cocktails et délicieuses bouchées en grande quantitié

---
Tickets
Tickets are no longer available because the event is over.
Thanks to the participants!