Event details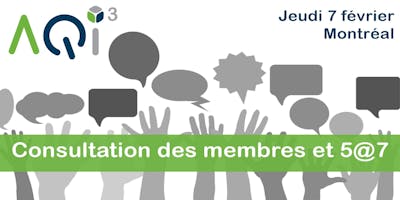 Consultation des membres et 5@7
Thursday 07 February 2019
17:00
DoubleTree par Hilton (ancien Hyatt)
17h : Salon Création et 18h : Six Resto Lounge 1255, rue Jeanne-Mance, Montréal, QC
H5B 1E5
---
Participez à la vie démocratique de votre communauté d'affaires 

Afin d'échanger et de créer un dialogue autour de vos préoccupations, l'AQIII vous convie ce 7 février lors de la consultation annuelle des membres.
Compte tenu du marché en ébulition et de la pénurie de main d'oeuvre, cette table ronde permettra d'aligner les outils et services de l'AQIII pour mieux déservir ses membres.
Comment votre réseau peut-il mieux appuyer votre succès en 2019 ? 
Quelles thématiques vous préoccupent le plus ?
L'AQIII en profitera pour vous consulter sur votre réalité terrain comme consultant indépendant. Quelles sont vos relations avec les firmes, la grande entreprise, les PME ? 
Boule de cristal 2020
Venez échanger avec vos pairs et découvrir les tendances 2020 de la consultation indépendante.
La consultation sera suivie du traditionnel 5@7 mensuel qui vous permettra de développer votre réseau, optimiser votre "Moi inc." et même trouver votre prochain mandat! 
---
Déroulement 
17h à 18h : Consultation des membres (exclusif aux menmbres) au Salon Création
18h à 20h : Cocktail réseautage au Six Resto Lounge - bienvenue à tous!
La formule bonifiée de réseautage pour répondre aux besoins des consultants en TI
Réseautez avec des consultants en TI, des donneurs de contrats et des fournisseurs de services professionnels
Coin MENTORAT : obtenez des conseils concrets de nos ambassadeurs et mentors pour votre "MOI Inc." ou votre démarrage. Vous aimeriez être un mentor AQIII? Passez nous voir!
Obtenez de précieux conseils de nos partenaires de services professionnels

Trouvez votre prochain mandat avec nos partenaires donneurs de contrats
---
Tickets
Tickets are no longer available because the event is over.
Thanks to the participants!