Event details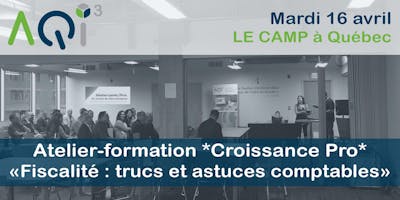 Atelier-formation *Croissance Pro* Fiscalité à QUÉBEC
Tuesday 16 April 2019
17:00
LE CAMP
125 Boulevard Charest E, Québec, QC
G1K 3G5
---
Profitez de l'expérience et des "trucs et astuces" d'un comptable CPA et d'un fiscaliste pour faire croître votre "Inc" lors de cet atelier-formation à QUÉBEC. 

C'est l'occasion unique 2-en-1 de développer votre réseau d'affaires ET d'en apprendre davantage sur:
L'impact fiscal des produits d'assurance

La stratégie de rémunération (salaires ou dividendes?)

Les placements, le type de compagnie (gestion/opérante) et la succession
Il nous fera plaisir de vous accueillir, de vous rencontrer, de vous référer et de vous aider dans vos démarches entrepreneuriales lors de ce rendez-vous incontournable de l'AQIII à Québec. 
---
Déroulement
17h00 :                             Accueil et réseautage
17h30 à 18h15 :               Atelier - 1ère partie
18h15 à 18h30 :               Pause "Vin & fromage" 
18h30 à 19h15 :               Atelier - 2ème partie
19h15 à 19h30 :               Pause "Vin & fromage"
19h30 à 20h15 :               Atelier 3ème partie
---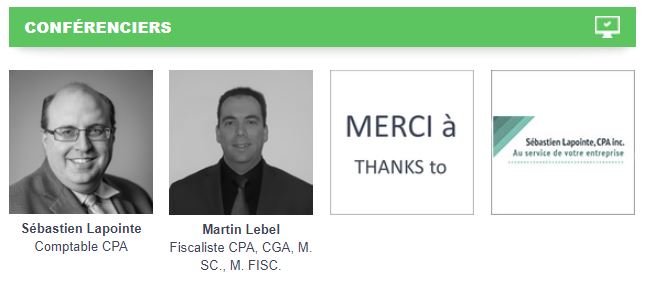 Sébastien Lapointe, Comptable CPA
Sébastien Lapointe, CPA auditeur, CA exerce en cabinet comptable depuis 2003 et est diplômé de l'ordre des comptables professionnels agréés depuis 2005. Associé d'un grand cabinet pendant 6 ans, Monsieur Lapointe décide en 2018 de fonder son propre cabinet afin de mieux pouvoir aider la PME. Monsieur Lapointe a participé à plusieurs transactions importantes d'acquisition et de vente d'entreprise, il saura vous conseiller dans votre plan d'affaires et l'optimisation de votre stratégie d'entreprise. Monsieur Lapointe sait s'adapter aux particularités de chaque entrepreneur et de chaque entreprise. 
Martin Lebel, Fiscaliste
Fondateur de la firme Services Fiscaux Intégrés, Martin Lebel a plus de 15 ans d'expérience dans le domaine de la fiscalité. Il détient une solide expérience au niveau de la planification fiscale et des réorganisations corporatives. Sa formation unique combinant le titre professionnel de CPA-CGA, maîtrise en finance et maîtrise en fiscalité, lui permet de proposer des solutions complètes, toujours en partenariat avec ses clients, professionnels et gens d'affaires. 
---
Tickets
Tickets are no longer available because the event is over.
Thanks to the participants!