Event details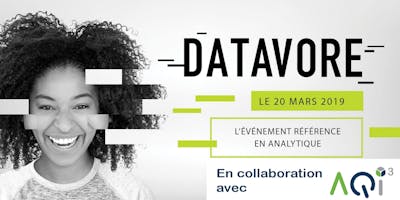 Datavore
Wednesday 20 March 2019
07:00
Palais des Congrès
Montréal, QC

---

200 billets GRATUIT pour le Cocktail "Célébrons les données" et un rabais de 25% sur la journée du 20 mars grâce à l'AQIII
Datavore, c'est un événement qui interpelle les passionnés de données qui en veulent toujours plus. Incontournable sur la scène de l'analytique au Québec, Datavore donne lieu à des apprentissages de toutes sortes. Échanges sur les pratiques, partage d'expériences, rencontres fructueuses et nouvelles perspectives : prenez part à cette grande rencontre. Apportez vos idées et votre savoir, venez avec votre soif d'apprendre et de collaborer, et repartez vers de nouvelles dimensions!
L'AQIII sera présente au Cocktail "Célébrons les données" qui clôtura la journée du 20 mars. Venez nous rencontrer! 
---
Tickets
Tickets are no longer available because the event is over.
Thanks to the participants!