Event details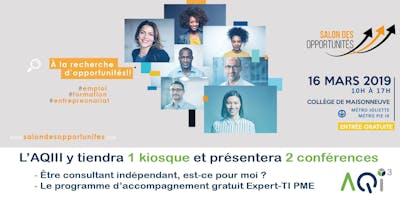 Salon des opportunités
Saturday 16 March 2019
10:00
Collège de Maisonneuve
3800 Rue Sherbrooke E, Montréal, QC
H1X 2A2
---

Venez renontrer l'AQIII à son kiosque et assister à ces 2 conférences 
Le Salon des Opportunité est né pour apporter et présenter aux immigrants, toutes les opportunités du Québec ainsi que les méthodes et les outils pour mettre en place ce processus. Cette année le thème du Salon est le Numérique. Ce virage a un impact sur tous les aspects de la société. Comprenons le, acceptons le et prenons les actions nécessaires.
L'AQIII y tiendra un kiosque et présentera 2 conférences : 
Être consultant indépendant, est-ce pour moi ? 

Le programme d'accompagnement gratuit Expert-TI PME
Venez nous rencontrer et découvrir tous les outils à votre disposition pour réussir en affaires! 
---
Entrée gratuite 
---
Tickets
Tickets are no longer available because the event is over.
Thanks to the participants!