Event details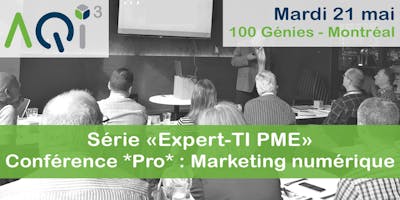 Conférence *Pro* : Le Marketing numérique
Tuesday 21 May 2019
17:30
Salle VIP - Restaurant 100 Génies (ÉTS)
530 Rue Peel (Croisement Notre-Dame), Montréal, QC
H3C 2H1
---
Dans le cadre des rencontres Expert-TI PME, l'AQIII présente une série de thématiques pour aider les consultants spécialisés auprès de la PME. Ce mois-ci, nous vous présentons le Marketing numérique. 
La rentabilité d'une campagne web
La rentabilité qu'on peut espérer d'une telle campagne
L'importance de faire une bonne analyse afin de créer une campagne qui porte fruit.
Les entreprises, petites et grandes, donnent maintenant une bonne part de leur budget marketing au web, plutôt qu'aux médium traditionnels.
Michel et Benoit Domingue de Ursa Marketing présenteront différentes stratégies et tactiques du marketing numérique en se basant sur le site Expert-TI PME, afin de démontrer aux membres et leur client l'importance d'un encadrement numérique. Venez développer vos connaissances pour votre propre stratégie web et/ou mieux répondre à vos clients. 
Le but ultime du marketing numérique selon Ursa : découvrir et faire descendre le coût d'acquisition d'un nouveau client par plateforme (Linkedin, Facebook, Google, YouTube, etc.)

---
Pourquoi se faire accréditer Expert TI PME ? 
Crédibilité auprès des PME via son statut d'Expert TI

Accèder à des micro-mandats variés et en parallèle auprès des PME

Renforcer son statut fiscal et diversifier ses sources de revenus

Certification reconnue par l'AQIII

Visibilité accrue via : un profil en-ligne distinctif, formation et événements de maillage exclusifs, participation exclusive aux tournées des salons
C'est une EXCLUSIVITÉ pour les membres AQIII. Informez-vous!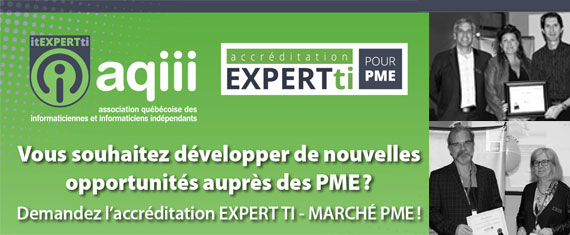 ---
Tickets
Tickets are no longer available because the event is over.
Thanks to the participants!