Event details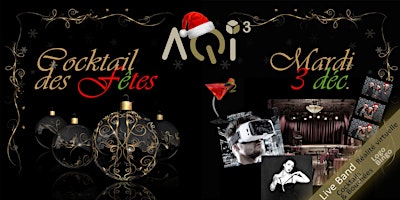 Cocktail des fêtes - Montréal
Tuesday 03 December 2019
17:00
Cabaret Lion d'Or
1676 Rue Ontario Est, Montréal, QC
H2L 1S7
---
Venez célébrez la magie des Fêtes avec l'AQIII et ses amis dans le cadre exceptionnel du CABARET LION D'OR!
Plongez dans l'ambiance des nuits folles montréalaises des années 30 au sein de l'historique Cabaret Lion d'Or et prenez-en plein les yeux, tant réellement que virtuellement grâce à nos animations de spectacle burlesque et réalité virtuelle!

Vivez la magie des Fêtes avec l'AQIII et prenez part à cette grande fête des TECHNOs populaire! C'est LA soirée de réseautage qui brille de mille feux.
Nombreuses activités prévues tout au long de la soirée : 
Animation de Réalité Virtuelle
Spectacle burlesque
Live BAND
Concours de réseautage, "Logo Bingo"
Cocktails et bouchées gastronomiques 
Prix de présence hors du commun
Nombreuses consommations incluses!

---

Pour toutes nos activités, prenez note qu'une inscription constitue une autorisation de diffusion des photos et vidéos par l'AQIII, à moins d'avis contraire écrit de votre part avant l'événement.
---
Tickets
Tickets are no longer available because the event is over.
Thanks to the participants!