Event details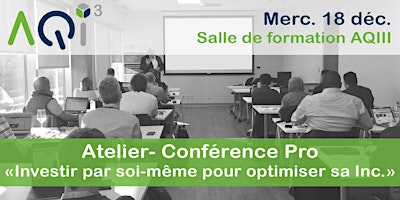 *SOLD-OUT* Atelier - Conférence Pro "Investir par soi-même pour optimiser sa Inc"
Wednesday 18 December 2019
17:30
Salle de formation de l'AQIII
405 Avenue Ogilvy, bur. 101 Stationnement gratuit - Gare/Métro Parc, Montréal, Québec
H3N 1M3
---
Les ateliers-conférence Pro "Optimisation de votre Inc": mieux vous outiller pour peaufiner votre expertise comme consultants en TI
La série d'ateliers *Optimisation de votre Inc* vous offrent des conseils pratiques et concrets sur des sujets pointus qui touchent votre statut de consultant en TI. 
Ce mois-ci, l'AQIII vous propose un atelier "Investir par soi-même en immobilier et en bourse pour optimiser sa Inc"  donné par Diane Garneau, Courtier immobilier hypothécaire et Julien Brault, PDG de Hardbacon. 
Investir en immobilier via son entreprise
Par Diane Garneau, Courtier immobilier hypothécaire chez Les Architectes hypothécaires
Courtier hypothécaire depuis 15 ans, Diane a accompagné des investisseurs à faire l'acquisition de bien immobilier tant au niveau personnel que corporatif. Connaissant bien les enjeux de liquidités que représente l'investissement immobilier, elle vous donnera quelques outils qui pourront vous aider dans la réflexion ou concrétisation d'un achat immobilier. N'agissant pas en tant que prêteur mais en tant que partenaire dans la réussite de votre projet, elle mettra en lumière des critères afin que vous puissiez prendre une décision éclairée.  
Commencer à investir par soi-même en Bourse avec le courtage en ligne et Hardbacon 
Par Julien Brault, PDG de Hardbacon
Julien Brault est pdg de Hardbacon, une start-up qu'il a fondée avec l'ambition de rendre l'investissement en Bourse accessible à tous. Auparavant, il a couvert les technologies et le capital de risque pour le journal Les Affaires, assumé la rédaction en chef du magazine Livre d'ici et fondé la maison d'édition Amérik Média. Il a aussi publié deux biographies : Péladeau - Une histoire de vengeance, d'argent et de journaux (Québec Amérique) en 2008 et Robert Bourassa (Les Malins) en 2010.
Il abordera les sujets suivants : 
REER, CELI ou REEE, et comment les utiliser

Courtier en ligne, robot-conseiller ou conseiller humain

L'ABC de l'investissement en Bourse avec Hardbacon

Investir comme travailleur autonome
---
Places limitées - Inscription préalable obligatoire
Pour toutes nos activités, prenez note qu'une inscription constitue une autorisation de diffusion des photos et vidéos par l'AQIII, à moins d'avis contraire écrit de votre part avant l'événement.
---
Tickets
Tickets are no longer available because the event is over.
Thanks to the participants!