Event details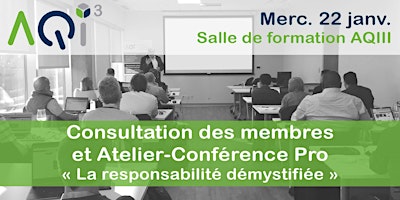 Consultation des membres et Conférence Pro "Assurer sa protection professionnelle"
Wednesday 22 January 2020
17:30
Salle de formation de l'AQIII
405 Avenue Ogilvy, bur. 101 Stationnement gratuit - Gare/Métro Parc, Montréal, Québec
H3N 1M3
---
Les ateliers-conférence Pro "Optimisation de votre Inc": mieux vous outiller pour peaufiner votre expertise comme consultants en TI
La série d'ateliers *Optimisation de votre Inc* vous offrent des conseils pratiques et concrets sur des sujets pointus qui touchent votre statut de consultant en TI.
Ce mois-ci, l'AQIII vous propose un atelier spécial : "Assurer sa protection professionnelle avec l'assurance erreur et omission" présenté par Lussier Dale Parizeau. 
Cette soirée sera également l'occasion de vous faire entendre lors de la Consultation annuelle des membres!
Consultation annuelle des membres : Participez à la vie démocratique de votre communauté d'affaires 
Afin d'échanger et de créer un dialogue autour de vos préoccupations, l'AQIII vous convie à la consultation annuelle des membres. Compte tenu du marché en ébulition et de la pénurie de main d'oeuvre, cette table ronde permettra d'aligner les outils et services de l'AQIII pour mieux déservir ses membres.
Comment votre réseau peut-il mieux appuyer votre succès en 2020 ? 
Quelles thématiques vous préoccupent le plus ?
L'AQIII en profitera pour vous consulter sur votre réalité terrain comme consultant indépendant. Profitez de cette soirée pour développer votre réseau de pairs, optimiser votre "Inc" et même trouver votre prochain mandat! 
Atelier-Conférence PRO : La responsabilité démystifiée
Claudie Latraverse, directrice de comptes - relations clients et Programmes chez Lussier Dale Parizeau, vous présentera tout ce que vous devez savoir sur votre responsabilité professionnelle en tant que consultant indépendant. Elle abordera en détail les éléments suivants :
1. Responsabilité civile générale
Ce que la garantie m'offre comme protection
La garantie est-elle suffisante
2. Responsabilité professionnelle
La nature de la garantie
Le genre de réclamations qui peuvent être présentées
Les frais de défense, qui paie ça?
3. Cyber-risques
Au-delà de la cyber-attaque
---
Déroulement
17h30 -18h45 : Consultation des membres
18h45 - 19h15 : Pause et réseautage
19h15 - 20h15 : Atelier-conférence
20h30 : FIN
---

---
EXCLUSIF MEMBRES - GRATUIT
Places limitées - inscription préalable obligatoire
Pour toutes nos activités, prenez note qu'une inscription constitue une autorisation de diffusion des photos et vidéos par l'AQIII, à moins d'avis contraire écrit de votre part avant l'événement.
---
Tickets
Tickets are no longer available because the event is over.
Thanks to the participants!