Event details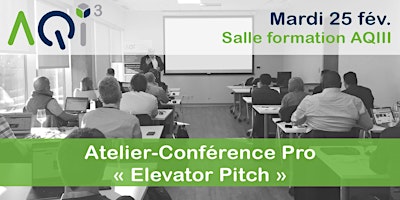 REPORTÉ - Atelier - Conférence Pro "Elevator Pitch"
Tuesday 25 February 2020
17:30
Salle de formation de l'AQIII
405 Avenue Ogilvy, bur. 101 Stationnemenent gratuit - Gare/métro Parc, Montréal, Québec
H3N 1M3
---
REPORTÉ : L'atelier-conférence Pro *Elevator Pitch* est annulé. Consultez le calendrier des événements de l'AQIII pour connaître les ateliers à venir : https://www.aqiii.org/fr/evenements/
Les ateliers-conférence Pro "Optimisation de votre Inc": mieux vous outiller pour peaufiner votre expertise comme consultants en TI
La série d'ateliers *Optimisation de votre Inc* vous offrent des conseils pratiques et concrets sur des sujets pointus qui touchent votre statut de consultant en TI.
Ce mois-ci, perfectionner votre pitch de vente grâce à notre expert Martin Duchaine, Directeur Défi Montréal, lors de cet atelier très pratique.
L'Elevator Pitch : votre outil de persuasion massive
À l'ère des réseaux sociaux, attirer l'attention et intéresser quelqu'un à votre projet est une question de secondes.  Les techniques de pitch sont essentielles en particulier pour présenter des innovations, des logiciels ou des solutions TIC qui viennent changer les habitudes de vos clients.
Avec un Elevator Pitch, une présentation verbale d'une minute, attirez l'attention et lancez une discussion constructive basée sur les préoccupation de votre interlocuteur, votre solution et les opportunités qu'elle offre.  Apprenez à toucher votre cible au niveau rationnel, émotionnel et... monétaire !
Cet atelier présente de façon simple les éléments clés d'un Elevator Pitch à succès et vous permet de les pratiquer en groupe pour les commenter et les améliorer.  La force de cet atelier est d'écouter et de commenter un grand nombre de pitchs pour vous familiariser et maîtriser cette technique devenue incontournable.
---
PRÉ-RÉQUIS :
Préparer un elevator pitch qui pourra être révisé sur place 
Se préparer à présenter son elevator pitch devant l'auditoire
---
Places très limitées!
Pour toutes nos activités, prenez note qu'une inscription constitue une autorisation de diffusion des photos et vidéos par l'AQIII, à moins d'avis contraire écrit de votre part avant l'événement.
---
Tickets
Tickets are no longer available because the event is over.
Thanks to the participants!