Event details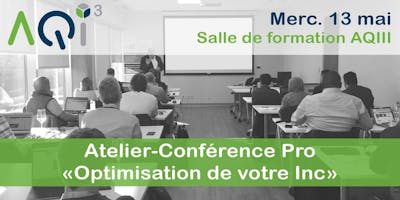 Atelier - Conférence Pro "Optimisation de votre Inc" - Sujet à venir
Wednesday 13 May 2020
17:00
Salle de formation de l'AQIII
405 Avenue Ogilvy, bur 101 Stationnement gratuit - Gare/Métro Parc, Montréal, Québec
H3N 1M3
---
Les ateliers-conférence Pro "Optimisation de votre Inc": mieux vous outiller pour peaufiner votre expertise comme consultants en TI
La série d'ateliers *Optimisation de votre Inc* vous offrent des conseils pratiques et concrets sur des sujets pointus qui touchent votre statut de consultant en TI.
Grâce aux formateurs-experts triés sur le volet, offrez-vous les informations les récentes et actualisez vos connaissances et compétences sur des sujets aussi variés que :
les assurances,
la gestion des finances,
les crédits d'impôts,
la rédaction d'un CV,
l'utilisation de LinkedIn,
la négociation de vos mandats,
la présence entrepreneuriale,
et plus encore!
Chaque mois un nouveau sujet : restez à l'affût!
---
Places sont limitées - Billets en vente bientôt !
Pour toutes nos activités, prenez note qu'une inscription constitue une autorisation de diffusion des photos et vidéos par l'AQIII, à moins d'avis contraire écrit de votre part avant l'événement.
---
Tickets
Tickets are no longer available because the event is over.
Thanks to the participants!