Event details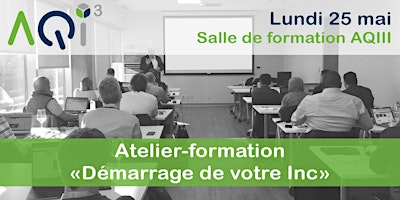 Atelier-formation "Démarrage de votre Inc" - Montréal
Monday 25 May 2020
17:30
Salle de formation de l'AQIII
405 Avenue Ogilvy, bur 101 Stationnement gratuit - Gare/métro Parc, Montréal, QC
H3N 1M3
---
Réussir en affaires n'a jamais été aussi simple avec les soirées d'ateliers-formations de l'AQIII!
Soyez de la première cohorte de la saison du parcours interactif « INC » : partage d'expertise, ateliers pratiques et mises en situation.

Les ateliers-formations '4-en-1 pour partir à son compte' : les bases essentielles de l'incorporation et de la comptabilité.
Profitez de l'expérience d'un COMPTABLE, d'un CONSEILLER EN SÉCURITÉ FINANCIÈRE, d'un AVOCAT, et de deux MENTORS-ENTREPRENEURS AGUERRIS lors de cet atelier-formation qui couvrira les aspects suivants :
Pré-démarrage et planification des 12 mois
La création de sa INC : étapes, considérations, responsabilités et obligations
Administrer son entreprise : inscriptions, taxes, tenue de livres, salaire ou dividende?
Assurer sa présence entrepreneuriale : trouver des clients, négociations, clauses contractuelles et se faire valoir
Conseils financiers : choix de rémunération, s'assurer, planifier sa retraite
Outils, trucs et astuces
---
Cet atelier s'adresse à vous, que vous soyez :
Employé qui songe partir à son compte
Récemment incorporé (moins de 12 mois)
Nouveau retraité / Consultant à temps partiel
Étudiant avec consultation "on the side"
---
Programme :
Le pré-démarrage : être consultant indépendant... est-ce pour moi?
Qu'est-ce qu'un consultant indépendant?
Évaluez votre profil d'entrepreneur : Suis-je fait pour la consultation? Perceptions et réalités.
Transition employé – entrepreneur : ce qu'il faut savoir et faire avant pour éviter de frapper un mur
La création de sa INC
Forme juridique et formalités. Comment choisir?
Choix du nom commercial. Registres et autres obligations. Trucs et astuces des Pro.
Étapes, délais et coûts de la constitution
Administrer son entreprise
Tenue de livres. Le faire soi-même ou le faire faire? Logiciels et options
Obligations : Taxes et remises. Prévision de sorties de fonds : impôts et acomptes provisionnels
Dépenses déductibles. Principes de bases et cas particuliers pour consultants TI
Salaire ou dividendes? Le point de vue comptable et les cas particuliers
Assurer sa présence entrepreneuriale
Image de marque et mindset d'entrepreneur
Site internet, logos et cartes d'affaires
Profils LinkedIn et AQIII
Réseautage, référencement et elevator pitch (partie I)
Conseil financier
Salaire ou Dividende? Le point de vue du conseiller financier
Optimisation des finances : stratégies de décaissement et avantages fiscaux
---
Déroulement
*Dégustation de Vins et fromages inclus!
17h30 - 18h00 : Accueil, réseautage
18h00 - 19h00 : Ateliers
19h00 - 19h15 : Pause
19h15 -  20h05 : Ateliers, suite
20h05 - 20h20 : Pause
20h20 - 20h55 : Ateliers, fin
20h55-21h25 : Réseautage
---
Condition d'admission :
Être résident permanent ou citoyen Canadien

Pour toutes nos activités, prenez note qu'une inscription constitue une autorisation de diffusion des photos et vidéos par l'AQIII, à moins d'avis contraire écrit de votre part avant l'événement.
---
Tickets
Tickets are no longer available because the event is over.
Thanks to the participants!