Event details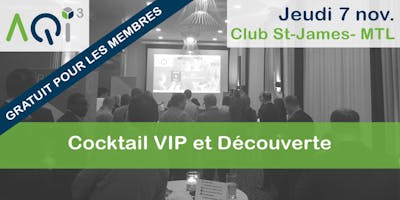 Cocktail VIP et Découverte des offres
Thursday 07 November 2019
17:00
Club Saint-James
1145 Avenue Union, Montréal, QC
H3B 3C2
---
Le Cocktail *VIP* et *DÉCOUVERTE* de l'AQIII est une occasion unique de découvrir les avantages de devenir MEMBRE VIP de l'AQIII et du prestigieux Club Saint-James ainsi que les PLUS VALUES et RABAIS EXCLUSIFS qu'offre l'association !


---
RENOUVELLEMENT du MEMBERSHIP VIP
Profitez de la soirée pour DÉCOUVRIR les AVANTAGES de devenir MEMBRE VIP AQIII et du prestigieux du CLUB SAINT-JAMES (ET ÉCONOMISEZ $ !!). 
---
Cocktail "DÉCOUVERTE"
Dès 17h00, venez DÉCOUVRIR tout ce que les PARTENAIRES PROFESSIONNELS de l'AQIII peuvent faire pour vous : services comptables, avocats, conseiller financier, assurances, services professionnels et personnels... en tout, plus de 40 ententes exclusives négociées pour vous !
Nouveau membre de l'AQIII ? Venez DÉCOUVRIR votre association et vos nouveaux bénéfices
Membre de longue date ? Venez voir comment l'AQIII se renouvelle sans cesse et négocie de nouvelles ententes pour répondre au mieux à vos besoins
Spécialiste TI qui pense faire le saut à la consultation ? C'est l'occasion parfaite pour vous de découvrir l'association et les services qui vous sont offerts et les bénéfices à rejoindre l'AQIII. PSSST : profitez de notre billet spécial *PARRAINAGE AQIII* pour participer à l'évènement GRATUITEMENT! 
---
Déroulement 
Cocktail VIP et découverte du *Club Saint-James*
*Découverte* de certaines offres exclusives à l'AQIII
Bienvenue à tous!

---

Pour toutes nos activités, prenez note qu'une inscription constitue une autorisation de diffusion des photos et vidéos par l'AQIII, à moins d'avis contraire écrit de votre part avant l'événement.
---
Tickets
Tickets are no longer available because the event is over.
Thanks to the participants!