Event details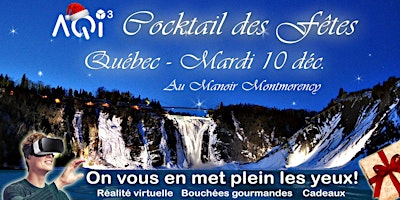 Cocktail des fêtes - Québec
Tuesday 10 December 2019
17:00
Manoir Montmorency
Salon Georges-Henri Lévesque 2490 Avenue Royale, Quebec City, QC
G1C 1S1
---
Vivez la MAGIE des Fêtes avec l'AQIII !
C'est LA soirée de réseautage qui brille de mille feux où l'on remercie partenaires, clients et amis ! Cette année l'AQIII vous en met plein les yeux avec une activité Réalité virtuelle et le cadre enchanteur du Manoir Montmorency. Vos papilles gustatives ne seront pas en reste grâce au bar à poutine et délicieuses bouchées gastronomiques! 
Venez célebrer avec l'AQIII et ses amis dans le magnifique cadre du Manoir Montmorency à Québec ! 
Nombreuses activités prévues toute au long de la soirée : 
Animation de Réalité Virtuelle

Bar à Poutine
Animation micromagie
Concours de réseautage, "Logo Bingo"
Cocktails et délicieuses bouchées en grande quantité
Prix de présence hors du commun  !

---

Pour toutes nos activités, prenez note qu'une inscription constitue une autorisation de diffusion des photos et vidéos par l'AQIII, à moins d'avis contraire écrit de votre part avant l'événement.
---
Tickets
Tickets are no longer available because the event is over.
Thanks to the participants!