Event details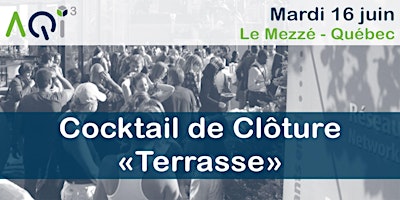 Cocktail de clôture *Terrasse* - Québec
Tuesday 16 June 2020
17:00
À venir
Québec, QC

---
Rendez-vous au Cocktail de clôture de l'AQIII!
Le 16 juin, rejoignez l'AQIII et ses partenaire pour clôturer la saison sur une belle TERRASSE à Québec ! Venez développer votre réseau, échanger avec vos pairs, optimiser votre "INC" et bonifier vos connaissances grâce à une mini-conférence.
3 bonnes raisons de participer : 
Lancement du "Portrait de l'industrie de la consultation en TI 2020", dont le profil type, le mandat type, le tableau des tarifs horaires par expertise avec des données spécifiques pour Québec! 
Nombreux coupons-boissons et bouchées gourmandes 
Tirage de prix de présence
---


Lancement du Portrait de l'industrie 2020
Découvrez les tendances du marché pour 2020-2021 grâce au Portrait de l'industrie 2020!
​Le Portrait de l'industrie de la consultation en TI de l'AQIII est la plus importante source d'information disponible sur les informaticiens indépendants : leur profil, leurs mandats, leurs tarifs horaires, les tendances et besoins des consultants et de leur "Inc".

Il nous permet de prendre le pouls annuellement de notre industrie en mouvance. Si l'AQIII maintient une veille active sur le marché de la consultation, c'est notamment afin de s'assurer de rester réactif face aux conditions changeantes de notre marché.

Pour toutes nos activités, prenez note qu'une inscription constitue une autorisation de diffusion des photos et vidéos par l'AQIII, à moins d'avis contraire écrit de votre part avant l'événement.
---
Tickets
Tickets are no longer available because the event is over.
Thanks to the participants!