Event details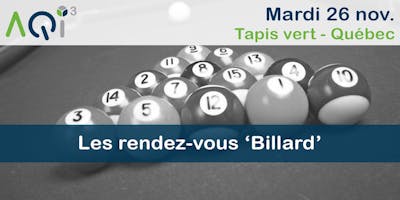 Rendez-vous Billard à Québec
Tuesday 26 November 2019
17:00
Tapis Vert
2323 Boulevard du Versant N #210, Québec, Quebec
G1N 4P4
---
NOUVEAUTÉ à Québec: les Rendez-vous 'Billard' !
Rejoignez vos pairs le 26 novembre dès 17h00 au Tapis Vert de Sainte-Foy pour une soirée conviviale de Billard ! 
La formule est très simple : pas d'inscription nécessaire, on se retrouve sur place pour passer une belle soirée et réseauter. Trouvez Simon ! 

Pour toute question, contactez : 
Anick Huet-Richard ahuet@aqiii.org
---
Tickets
Tickets are no longer available because the event is over.
Thanks to the participants!