Event details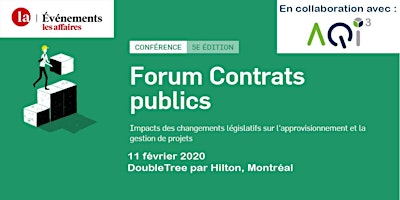 Forum Contrats publics - Événements Les Affaires
Tuesday 11 February 2020
08:15
Centre-ville
Montréal, QC

---
Obtenez un rabais de 10%  grâce à l'AQIII


Après l'entrée en vigueur d'importants changements législatifs sur les modes d'octroi et de gestion des contrats publics, comment les grands donneurs d'ordres et les fournisseurs ajustent-ils leurs pratiques pour favoriser une saine concurrence tout en assurant la qualité des travaux, selon les coûts et les échéanciers prévus ?
Dans le contexte actuel de pénurie de main-d'œuvre et de surchauffe des marchés publics, comment effectuer une surveillance efficace des chantiers ? Et en matière de coûts et qualité, la loi du plus bas soumissionnaire vous permet-elle d'atteindre vos objectifs ?
La plus grande autonomie des municipalités favorise le développement d'initiatives au niveau de l'éthique et de la gouvernance. Quels sont les résultats obtenus ? Quels enseignements peut-on retirer des premières enquêtes menées par l'Autorité des marchés publics ? Et quels seront les impacts de la création du Centre d'acquisitions gouvernementales dans les grands réseaux d'approvisionnement de l'éducation et de la santé ?
---


5 bonnes raisons 
de participer
Faites le point sur les impacts des plus récents changements législatifs en  matière d'octroi et de gestion des contrats publics
Inspirez-vous de solutions concrètes mises en place par des donneurs d'ordre pour favoriser la concurrence et la qualité dans les appels d'offres
Améliorez vos pratiques de gestion pour réduire les coûts des projets et assurer une surveillance efficace des chantiers 
Réseautez et échangez avec des pairs pour vous comparer et compléter votre coffre à outils !
Rencontrez les experts et les acteurs clés du domaine lors de cet événement unique !
---
Tickets
Tickets are no longer available because the event is over.
Thanks to the participants!