Event details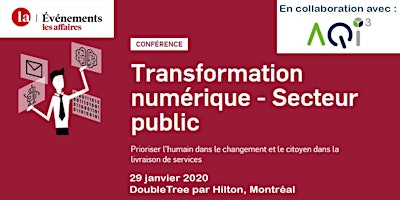 Conférence Transformation numérique - Événements Les Affaires
Wednesday 29 January 2020
07:00
Centre-ville
Montréal, QC

---
Obtenez un rabais de 10%  grâce à l'AQIII


Les administrations publiques n'y échappent pas : elles doivent prendre le virage de la transformation numérique même si les risques et les coûts sont énormes. Tout comme pour les grandes entreprises, la tâche n'est pas mince et les enjeux sont nombreux. Deux grands volets sous-tendent la transformation numérique des administrations publiques : la gestion du changement et l'intégration de nouvelles technologies. Devant ces défis parfois pressants, il peut paraître difficile d'emprunter le bon chemin.
Les bureaux de projets, les centres d'expertise et les lieux de collaboration sont des instruments privilégiés par bon nombre d'administrations et témoignent de l'importance qu'elles attribuent à la transformation numérique.
La programmation de cette première édition a été rendue possible grâce à la collaboration de gestionnaires d'administrations publiques directement impliqués dans la transformation numérique. Cet événement se veut d'être une occasion de rencontres et d'échanges avec des pairs et des experts afin de prendre ce virage humain et technologique.
---


5 bonnes raisons 
de participer
Échanger avec des pairs sur vos enjeux de gestion du changement et d'intégration de nouvelles technologies ;
Connaître les meilleures pratiques de gestion de projets de transformation ;
Découvrir comment les technologies en émergence actuelles auront une incidence sur vos stratégies opérationnelles ;
Savoir où en sont les administrations publiques du Québec dans leur transformation numérique ;
Adapter vos façons de faire afin d'atteindre vos objectifs de performance en adoptant une approche agile.
---
Tickets
Tickets are no longer available because the event is over.
Thanks to the participants!