Event details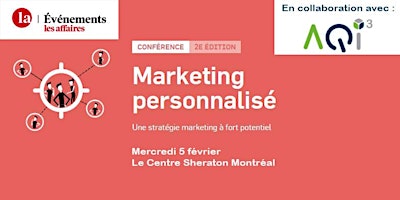 Conférence Marketing personnalisé - Événements Les Affaires
Wednesday 05 February 2020
09:00
Centre-ville
Montréal, QC

---
Obtenez un rabais de 10%  grâce à l'AQIII


Vous cherchez à stimuler votre capacité à générer des leads, à maintenir vos clients en bas de l'entonnoir de conversion, à augmenter vos revenus ? L'organisation de votre structure autour des données est bien en place et vous en êtes à ouvrir le champ des possibilités d'utiliser vos données clients. La personnalisation des communications est une option privilégiée ; d'après l'étude LoyauT 2019 réalisée par R3 Marketing et Léger, plus de 50 % des Canadiens souhaitent recevoir des communications complètement personnalisées.
---
5 bonnes raisons 
de participer
Faites le point sur ce qu'est la personnalisation et ce qu'elle peut apporter à votre organisation et à vos clients ;
Explorez les façons de bien connaître vos clients et surtout de rester pertinent ;
Effectuez la segmentation en synergie avec vos besoins d'affaires ;
Automatisez vos communications pour raccourcir le cycle de vente ;
Fidélisation, engagement, conversion, etc. la personnalisation répond à vos objectifs d'affaires. 
---
Tickets
Tickets are no longer available because the event is over.
Thanks to the participants!