Event details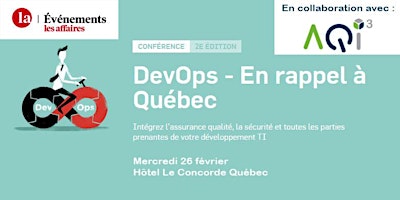 Conférence DevOps - Événements Les Affaires
Wednesday 26 February 2020
08:30
Centre-ville
Quebec, QC

---
Obtenez un rabais de 10%  grâce à l'AQIII


Venez entendre des spécialistes DevOps provenant d'entreprises telles que : Banque Nationale du Canada, Desjardins, CGI, DEVOPS É.-U., Gologic, ITech Services Conseil, La Capitale, Loto-Québec.
---


5 bonnes raisons 
de participer
Connaître les défis d'intégration du DevOps dans vos opérations
Apprendre les toutes dernières pratiques du leadership en mode DevOps
Savoir comment intégrer la qualité et la sécurité dans la loupe DevOps
Entendre des cas pratiques vous décrire les avantages, mais aussi les enjeux culturels du DevOps
Découvrir comment amener les membres de vos équipes développement et opérations à collaborer et évoluer dans leurs rôles
---
Tickets
Tickets are no longer available because the event is over.
Thanks to the participants!