Event details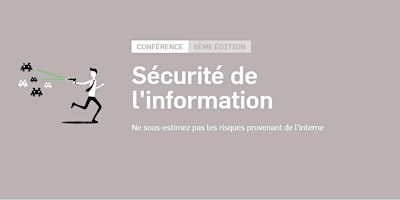 Conférence Sécurité de l'information - Événements Les Affaires
Tuesday 10 March 2020
08:00
Centre-ville
Montréal, QC

---
Obtenez un rabais de 10%  grâce à l'AQIII


Les pirates informatiques visent de plus en plus vos employés, et leurs attaques sont souvent couronnées de succès. Ils réussissent à obtenir ainsi des informations décisionnelles sur votre entreprise. Leurs méthodes sont si raffinées qu'ils arrivent aisément à berner des membres de la haute direction afin de soutirer d'importantes sommes d'argent à votre entreprise.  
Cette 6e édition de la conférence Sécurité de l'information met l'accent sur les principaux risques actuels de fraudes et d'attaques. Pour vous accompagner dans votre mission de protection de la sécurité de votre organisation, nous vous proposons d'échanger avec vos pairs et d'entendre des experts reconnus dans le domaine sur ces questions déterminantes :
Comment combattre efficacement de l'intérieur les risques de fraude du président et des fournisseurs ;
Comment réagir lors d'une fraude ou d'une attaque ;
Comment construire un nouveau service de sécurité de l'information lors d'une fusion-acquisition ;
Comment intégrer une certification de sécurité afin de satisfaire les exigences d'un client.
---


5 bonnes raisons 
de participer
Apprendre d'experts reconnus et de pairs qui partagent les mêmes enjeux ;
Établir des stratégies de sécurité de l'information qui ont fait leurs preuves dans d'autres organisations ;
Créer des liens avec les membres d'un réseau professionnel ;
Mieux comprendre le fonctionnement des menaces actuelles et à venir ;
Découvrir comment d'autres gestionnaires de la sécurité ont réagi lors d'attaque ou de fraude importante.
---
Tickets
Tickets are no longer available because the event is over.
Thanks to the participants!