Event details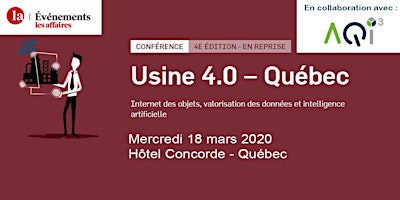 REPORTÉ - Conférence Usine 4.0 à Québec - Événements Les Affaires
Wednesday 18 March 2020
08:30
Centre-ville
Quebec, QC

---
Obtenez un rabais de 10%  grâce à l'AQIII
Après le succès du 24 septembre dernier à Montréal, on se déplace à Québec !
Nous verrons concrètement comment l'industrie 4.0 se matérialise dans le secteur manufacturier. Parce que le 4.0 n'est pas une finalité, mais bien un moyen d'augmenter votre productivité, votre efficacité, mais surtout votre compétitivité. Il vous faut trouver les bonnes solutions, avec les bons outils pour répondre à vos besoins d'affaires. Vous ne compétitionnez plus uniquement sur la scène locale, ni même nationale, mais sur l'échiquier mondial. Vous ne pouvez plus attendre de voir ce que fera votre voisin avant de vous positionner.   
Un rendez-vous incontournable qui s'étale sur 3 journées pour dénicher des solutions concrètes.
---


5 bonnes raisons
de participer
Voyez où votre entreprise est rendue dans le 4.0 et trouvez des outils concrets pour assurer la transition
Profitez de cette occasion pour réseauter, échanger et apprendre avec vos pairs
Soyez au fait des développements de cette industrie en pleine ébullition
Avancez dans le 4.0 pour contrer la pénurie de la main-d'œuvre et voyez à ce que vos employés soient formés adéquatement
Restez compétitifs afin d'assurer la pérennité de votre entreprise 
---
Tickets
Tickets are no longer available because the event is over.
Thanks to the participants!