Event details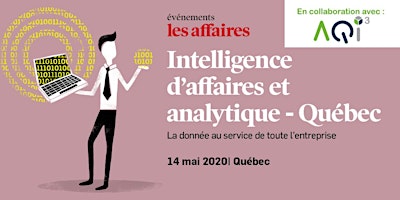 Conférence Intelligence d'affaires et analytique à Québec - Événements Les Affaires
Thursday 14 May 2020
08:15
Hôtel Concorde
Quebec, QC

---
Obtenez un rabais de 10%  grâce à l'AQIII
Vos données se multiplient et envahissent vos processus décisionnels. Les pressions pour faire de vos données un carburant propre et performant augmentent continuellement. La recherche d'outils efficaces devient omniprésente.

Ne manquez pas cette 4e édition où des cas concrets de libre-service BI, de mutualisation de données, de données ouvertes et d'exploitation de données comme un actif seront présentés. De plus, vous pourrez être actifs aux discussions via Sli.do.
---


5 bonnes raisons 
de participer
Développez les compétences-clés dans votre équipe
Communiquez efficacement la valeur de votre service BI dans toute votre entreprise
Bâtissez une solution libre-service qui répond aux questions d'affaires des utilisateurs
Découvrez des cas d'affaires de mutualisation de données et d'utilisation de données ouvertes
Apprenez à exploiter vos données comme un actif
---
Tickets
Tickets are no longer available because the event is over.
Thanks to the participants!