Event details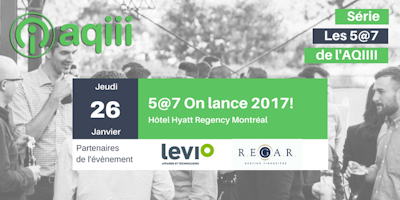 IT DRINKS - 5@7 AQIII *On lance 2017!*
Thursday 26 January 2017
17:00
Six Resto Lounge du Hyatt Regency Montréal
1255 Rue Jeanne-Mance, Montréal, QC
H5B 1E5
---

Les 5@7 de l'AQIII sont une occasion unique de développer votre réseau d'affaires en réseautant dans un contexte d'affaires simple et agréable. Vous pouvez y rencontrer d'autres professionnels en TIC, des donneurs de contrats, des fournisseurs de services professionnels, des mentors ainsi que l'équipe de l'AQIII qui pourra répondre à vos questions concernant l'association.

 avec notre *nouveau* partenaire 


Les représentants de l'équipe de REGAR seront sur place pour répondre à vos questions financières ! 

SAVIEZ-VOUS QUE...
58 % des contrats en TIC ne sont jamais affichés ? Ils sont RÉFÉRÉS! Venez-vous faire connaître auprès de vos pairs.

un nouveau membre peut espérer un ROI de plus de 14x son membership de 225$, et ce, dès la première année ? C'est payant d'être membre !

FAQs
Des bouchées seront servies
Bar payant / Cash Bar
---
Tickets
Tickets are no longer available because the event is over.
Thanks to the participants!